In this post – panoramas, MITSFS and Rebiya Kadeer.
Last weekend I was obesessed with panoramas. Using hugin, autopano and enblend, I created the first panoramas I've ever created, and boy did I impress myself. The one below is of Garden in The Woods, a cute little, well, garden in the middle of the woods in Framingham. Some friends of mine had decided to drive there on Sunday, and I tagged along. The rest of the photos can be found in the gallery.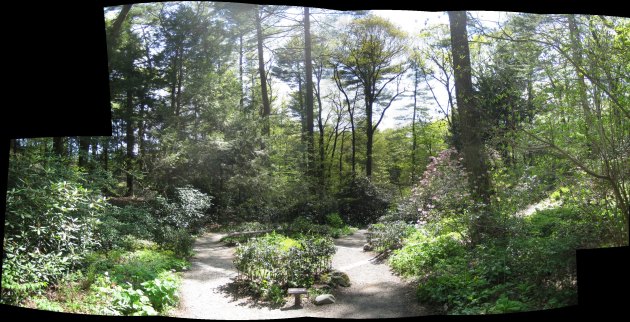 I attended my first MITSFS meeting today. I had arrived at 5:30p sharp, and the meeting had not started yet. My first action on entering the room was to slump onto the closest chair. That felt overly conspicuous after about five minutes, which prompted me to walk over to the circulation book and pick out an Asimov novel. I picked "Nemesis". I then sat there reading until the meeting began. It is a jovial organization that seems to operate really smoothly. This is more than I can say for most of the other organizations I have seen. Anyways, I stayed quiet and observed, and voted on only one issue, on whether the society was to announce that the space banana over Texas was to be split.
—
Earlier this week, we heard Rebiya Kadeer of East Turkistan / Xinjiang speak. The PRC students at MIT had sent out a protest call on their mailing list, and that was how I was summoned to the event. Not in support of the PRCs, but to see what type of discourse they had become capable of. I was suitably impressed by their ability to stick to the topic, given that this was the same group whom last year had become offended at the teaching material of a class on wartime Japanese propaganda. The talk itself was supported by the local Amnesty International (good) and the Muslim students society (less good). It really made me think about the amazing levels of journalistic reputation that watchdog organizations like Amnesty International depend on. I mean, how do you know you can trust Amnesty International to tell the truth? Who watches the watchers? Don't get me wrong, I'm not that kind of cynic. It's just an interesting question.