Conclusion: The pollution now (December) is from China, the pollution in November was locally generated.
Earlier this year, there was a bout of posts about whether the air pollution in Taiwan came from China. The air is apparently pretty bad right now, and this time I think it's clear that it's from China. I just pulled this screenshot from waqi.info: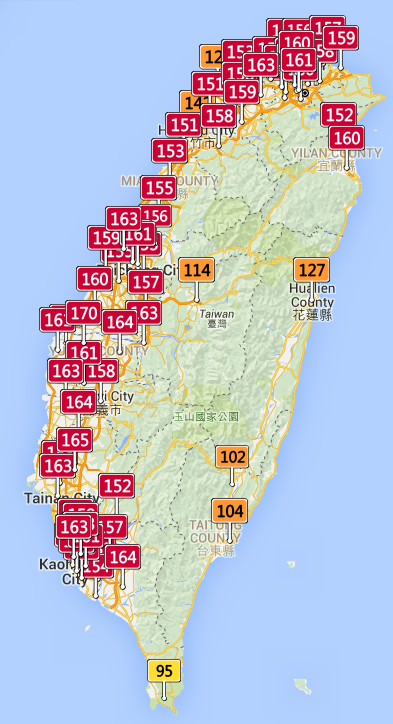 Observe that the pollution in Yilan Country, southeast of Taipei, is not that different from Taipei itself. This is what you would expect if the pollution came from far away. Compare this to the map from November (http://www.thenewslens.com/post/243421/):
Notice the huge disparity in homogeneity. Also, if I remember correctly, back then the wind was also unusually still. I think based on these facts, I would conclude that the pollution in November was locally generated and the pollution now is from a far away source, probably China. (Disregard the low pollution directly to the West, the wind doesn't come from there. Also, there could be a time lag, so even the pollution levels in the direction of the wind source at the same point in time are not immediately relevant.)
If I had all the historical data in a csv, could probably do a better analysis than two snapshots, if anyone could point me to a source I'd be happy to do that.